SEO and UX - Make it a dream team
A good user experience (UX) not only leads to more conversions but is also essential for optimizing SEO rankings. If you combine your SEO and UX strategy you make your website users happy - and Google.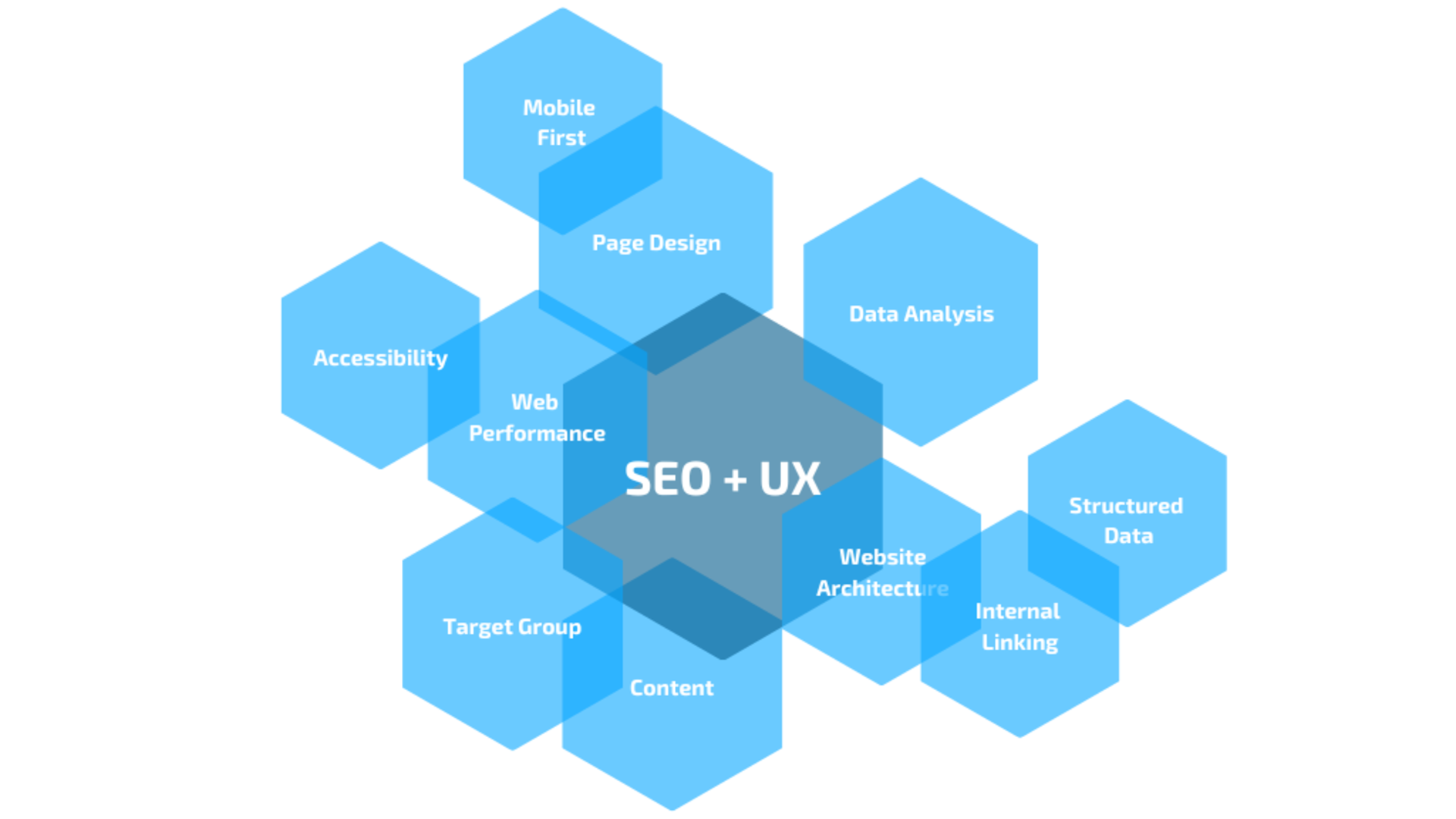 User First: The shared goal of UX and SEO
SEO (Search Engine Optimization) and UX are both disciplines of website optimization. But SEO managers optimize websites for search engines and UX designers for people. How can this fit together?
User experience is no longer a buzzword. The term has already been established in the 90s by scientist and UX guru Don Norman and is growing in importance in online marketing every year.
Google also makes user-centricity its most important corporate philosophy: "Focus on the user and all else will follow" and demands this credo from website operators as well. It has long been clear that fulfilling search intent plays an important role in optimizing search engine rankings. With the publication of the Core Web Vitals in June 2021 Google then also made the page experience an official ranking factor.
So why should UX and SEO teams act independently when both only have the user in mind? In this article we want to show how SEO and UX tasks can be united and to what extent both disciplines benefit from each other.
What is SEO?
Search engine optimization (SEO) refers to all content-related and technical measures (on-page and off-page) to improve the ranking of a website in the results pages of a search engine such as Google.
Google's focus is on the users. They should always receive the best search result. The Google algorithm is constantly being developed - with each core update, the search engine can better understand users and provide them with suitable results. In the past websites were optimized for the search engine - today SEO managers optimize websites for the users.
What is UX?
User experience is the holistic experience that we, the users, experience when using websites before, during and after interacting with them (ISO standard 9241).
UX experts therefore look at the entire user journey which often begins with an entry in the Google search box and a click on the search result of a website. After the page loads users typically scan the content of the page to see if their questions are answered there. Depending on the page type they engage with content and navigate to different subpages until the goal (e.g. a product purchase, obtaining information) is achieved.
According to Peter Morville's Honeycomb model a good user experience is composed of seven different characteristics:
Useful: Does the website offer a concrete benefit?
Usable: Is the website easy to use? Does the user reach his:her goal easily and quickly?
Desirable: Is the design attractive? Does it evoke positive emotions?
Findable: Is there clear navigation and structure?
Accessible: Is the website also usable for people with disabilities?
Credible: Does the website appear reputable and trustworthy?
Valuable: Does the website add value?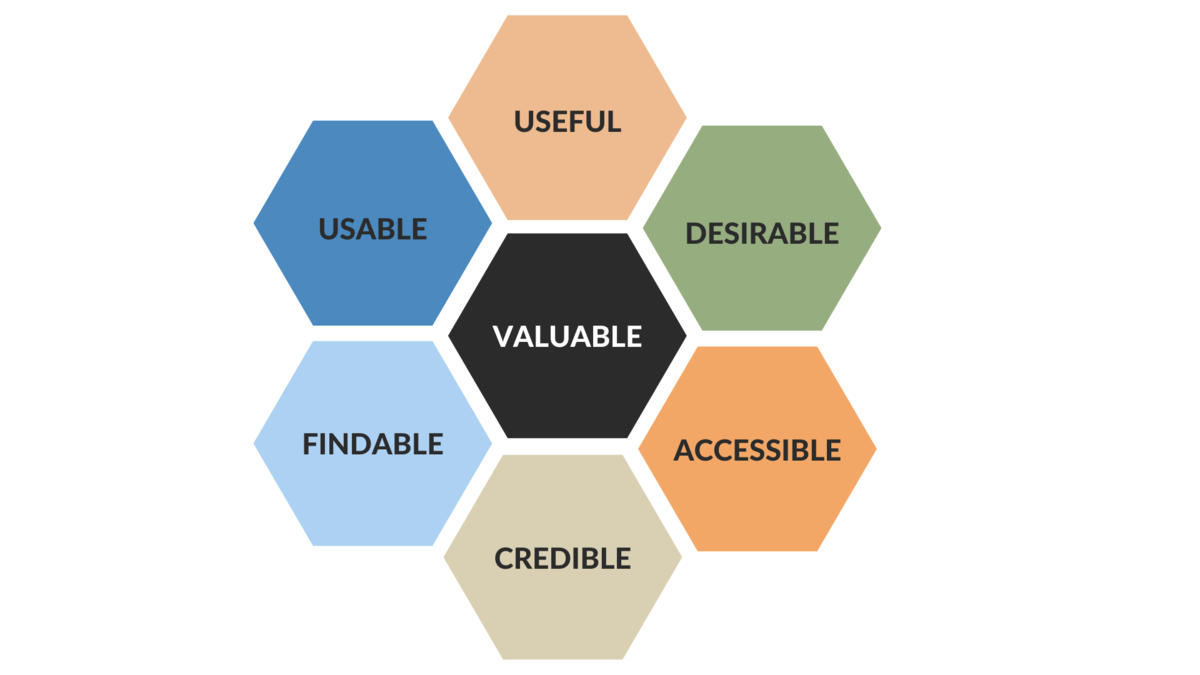 Connection SEO and UX
What connects SEO and UX and how can both teams benefit from each other?
We have already clarified that both SEO and UX are about focusing on the user. Many measures from both disciplines therefore go hand in hand and can influence each other positively. If we take a closer look at the respective focal points, it becomes clear that SEO and UX complement each other perfectly in certain areas.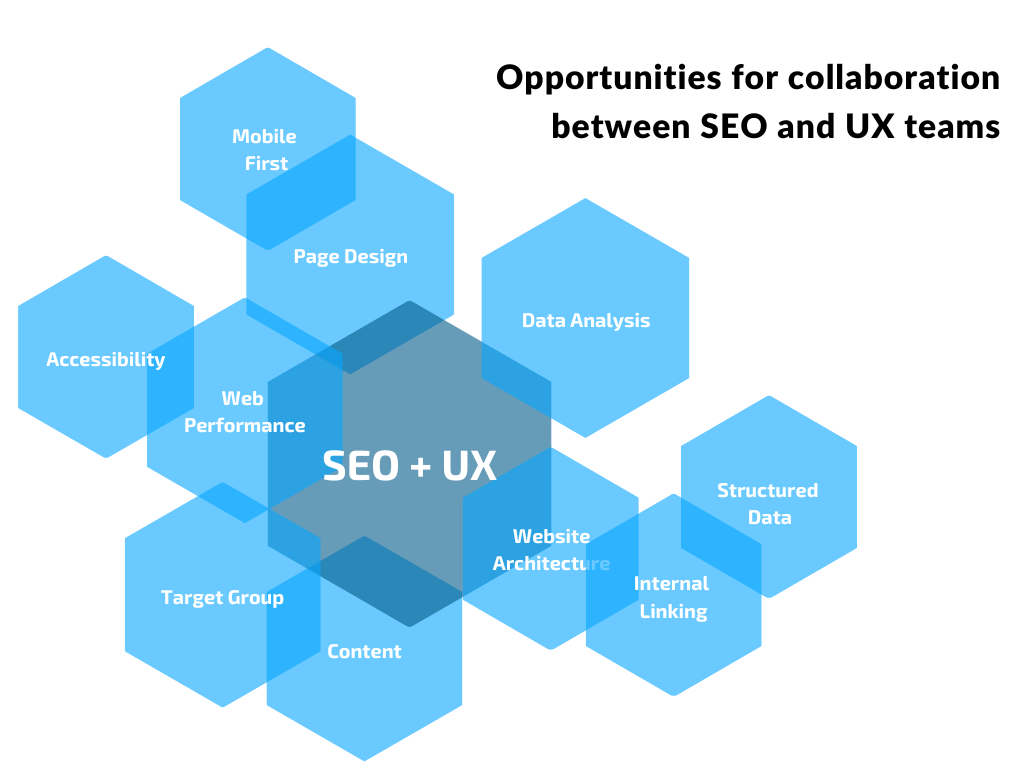 01. Target group
A careful target group definition and the consideration of the respective search intention is central to any SEO strategy. The UX/Usability team goes one step further with the development of so-called "personas". This is an abstract representation of an ideal customer based on data that already exists about a customer or that has been collected with qualitative and quantitative research.
Next, the interactions of the defined personas with a product or service are considered in order to obtain a holistic understanding of user goals and pain points along the user journey. The so-called user journey mapping is used to understand the entire user experience and to uncover potential for optimization.
02. Content
High quality content and clear design not only help the user to find their way. Content is also one of the main aspects of any search engine optimization. In the past text used to be optimized for search engines and was often not very user-friendly. But user-friendliness text became more and more important for SEO. The quality of the content has increased with the introduction of the E-E-A-T criteria (experience, expertise, authoritativeness, trustworthiness) which are also essential for the Google ranking.
If users have a positive experience because they can quickly find the information they are looking for, that also sends positive user signals to Google like lower bounce rates or more interactions with the website.
The so-called Content UX also refers to the structure of content.
To enable simple scanning of texts, you should pay attention to the following points among others:
Concise and unique H1 headline
Short teaser text below the headline
Structure content into paragraphs
Bolding important keywords
03. Site architecture
A well-structured page and navigation is important for both the user and the search engine crawler. This is the only way for the user to find his:her destination quickly and easily. At the same time a good crawlability of the page is ensured and all relevant content ends up in the Google index. Optimizing website navigation is a key lever for good UX.
04. Internal linking
Since usually only a few URLs of a medium-sized website are linked from external sources via backlinks, internal linking is the key element for linking the information structure of a website. It ensures that the crawler can find and index all relevant content. But is also an importan tool for user guidance and orientation on the site.
The following points ensure orientation and good crawlability:
Unique and descriptive page title (H1)
💡 Tip: An important UX rule is: "Don't make the user think" (Steve Krug, 2000). User guidance should be quick and intuitive. As a guideline, you should make sure that the user can complete his task (e.g. fill out a form) in a maximum of 3-5 steps (clicks).
05. Page design
The "Aesthetic Usability Effect" states that users often perceive aesthetically pleasing designs as more usable or practical. In addition, users are much more tolerant of minor problems and loading times. The first impression is therefore decisive for how the user deals with the website. Can the user find his:her way around the site? Is this perceived as professional and usable?
06. Web Performance
The Core Web Vitals are metrics Google uses to evaluate page performance and reflect the user experience on a website. They should be used by both SEO and UX managers to analyze the status quo.
The Core Web Vitals are composed as follows:
Largest Contentful Paint (LCP): measures loading performance (render time of largest visible content)
First Input Delay (FID): measures interactivity (e.g. time until elements are clickable)
Cumulative Layout Shift (CLS): measures visual stability
Loading times cannot always be avoided, yet they are perceived negatively by both Google and the user and have a direct influence on the conversion rate. According to a study by Portent, websites with a loading speed between 0-4 seconds have the highest conversion rates. A page should therefore be fully loaded in less than 4 seconds.
💡 Tip: It's a good idea to check a website's Core Web Vitals with different tools, as they can point to different problems. We check the web performance with Googles PageSpeed Insights and Webpagetest.org.
07. Accessibility
A website is accessible when it can be used by anyone, including people with visual, hearing or movement impairments. It's clear why accessibility is important for the user experience. But what role does it play in SEO? Google is increasingly focusing on accessibility and making it part of its mission: "Organize the world's information and make it universally accessible and useful". Therefore SEO managers should also keep an eye on that.
💡 Tip: Accessibility is also part of the PageSpeed ​​Insight analysis. This provides information on which elements of a website are not optimized for screen readers, for example, or where there are problems with contrasts or text size.
08. Data analysis
Google and other search engines evaluate user signals to determine whether users found expected results on a website and were satisfied with the overall experience. Positive user signals can directly contribute to a better ranking in the SERPs.
These user signals include, for example:
UX professionals can also use these metrics to gain insights into the user experience: How long does the user stay on a page? Which elements does the user interact with? For example, if a user spends a long time on a blog page, this can be a sign that they are satisfied with the content and may even be paying close attention to the information they found.
One of the most important tasks in UX optimization is user research, for example using user interviews or eye tracking tests to find out more about the needs and pain points of users. These insights can also be highly relevant for SEO teams.
09. Structured data
User experience already starts in the search results. In addition to optimized meta titles and descriptions, it is also possible to enhance the SERP snippet using structured data and thus achieve eye-catching positioning in the featured snippets. This can be rich snippets such as star ratings, summaries of product reviews, current prices or availability.
10. Mobile First
Whether on mobile, desktop or even tablet - the user experience can vary considerably depending on the device. The rule applies to both SEO and UX design: "Mobile First". With mobile-first indexing Google primarily uses the mobile version of a website for indexing and ranking. Also in UX design, the mobile version of a website is usually designed first, since more and more users visit websites via their smartphones (exceptions can be B2B websites). In addition, the reduced area helps to focus on the essentials.
When do differences arise between UX and SEO?
Of course, there are also topics in SEO and UX that are sometimes contradictory, or at least seem so. So how do you deal with the following challenges?
Relevant content for SEO vs. minimalist/lean design
In SEO the placement of relevant main and secondary keywords on a website is considered extremely important. In UX, on the other hand, care is taken to avoid useless content and to concentrate on the essence of the page. Minimalist designs - as known from Apple and Co. - are visually stunning and hardly offer any space for SEO-relevant content. The magic word at this point is the so-called "Content Design" (also UX Writing). The term was coined by Sarah Winters and means something like: "Without content there is no design, only decoration and ornaments and without visual and conceptual design, content is not able to fulfill its function."
If we look at it closely, content design should combine SEO and UX in one functional unit.
Image-rich/animated design vs. web performance
If creative design decisions are made at the expense of web performance, this often means unpleasant loading times for the user. So how do you deal with a page that looks great but might frustrate the user when interacting with it? We recommend giving priority to web performance and optimizing the page as possible to realistic Core Web Vitals values. If the page still needs a little more loading time after intensive optimization, tricks such as showing a skeleton page or animating the loading icon can help and entertain the user while waiting.
Conclusion
SEO and UX are both components of website optimization that share the common goal of improving user experience on a website. After all, a website that users can operate quickly and easily not only increases customer satisfaction and the conversion rate. Aspects such as clear website navigation, helpful content and fast loading times are also rated positively by search engine crawlers and ensure better rankings.
Those who no longer see SEO and UX in competition with each other and instead develop an integrated strategy will benefit in several ways.