Ahrefs: Our top 4 views for backlink analysis
Backlinks remain an important part of a website's SEO, and knowing your website's backlink profile helps you better understand how it performs, where it lacks, and how the market behaves overall. Here's some of our favorite Ahrefs reports to analyze your website.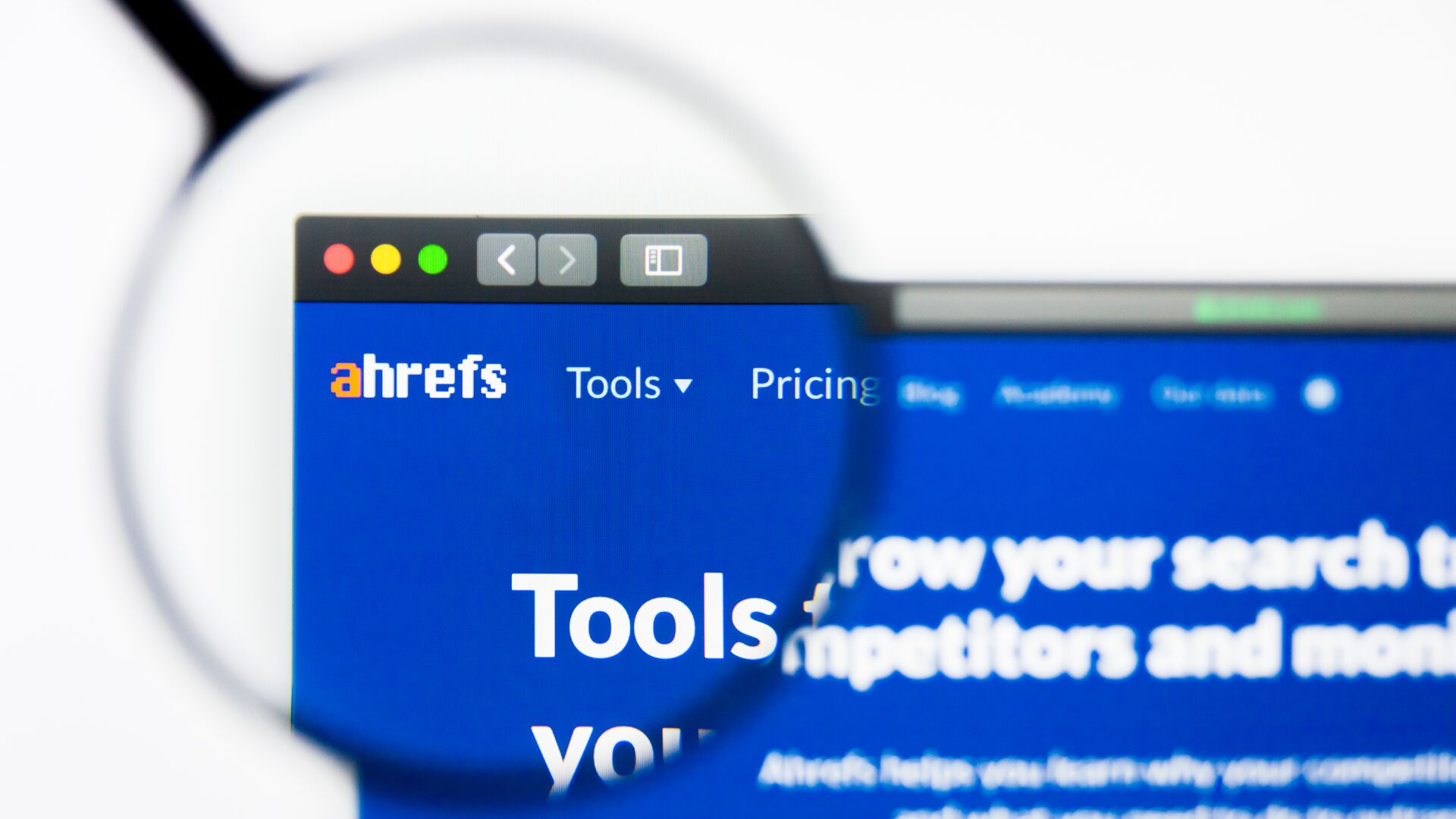 Introduction
It is widely accepted in the SEO community that offpage is an important pillar of SEO. Especially after the Penguin update in 2012, big focus was given on making sure the backlink profile of a domain is safe and does not try to manipulate the Google algorithm, which was the case with some websites pre-Penguin.
After Penguin, the SEO Community saw a lot of negative backlink 'attacks' happening, with the goal to downgrade competitor's websites, or even lead to manual actions against the website.
Luckily nowadays these malicious backlinks are getting to a big extent automatically ignored by Google's algorithm, making this facet of backlink analysis easier.
However, when starting to work with a website, it is always worth it to have a look at its backlink profile. Not only to analyse the safety of already existing backlinks, but also to understand the market better, and identify:
Any chances that the website might be missing out on with regards to offpage SEO

Any risks related to the backlink profile of the website

Any interesting patterns in the market that could help in shaping the offpage SEO strategy moving forward
We work with various tools to that end, but always make sure to include Ahrefs because of its data quality and ease of use. Here are some helpful Ahrefs reports that can help you better understand your website.
For this article, we will be using our own website as an example.
1: The Overview report
In order to get to the overview report, you need to enter the website address in the search bar. Keep in mind that you can analyse not only the entire domain, but also a particular subdomain, directory or page if that makes more sense for your particular use case. By clicking on the magnifying glass icon, you get to the overview page, which looks as follows (as of August 2022):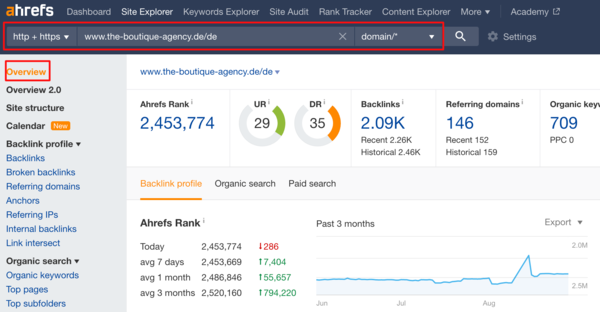 Illustration: Screenshot The Boutique Agency, as of August 30th, 2022
A very interesting part of this Overview report is the referring domains and referring pages evolution graph.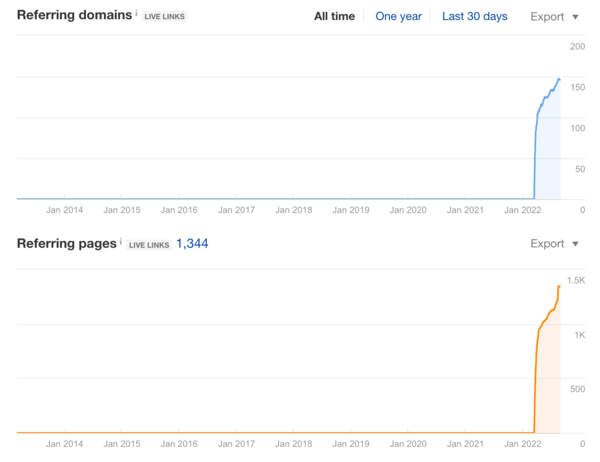 Illustration: Screenshot The Boutique Agency, as of August 30th, 2022
Notice the evolution of the graphs and see if you notice any spikes. Do the spikes in referring pages correspond to a similar pattern in referring domains? A side to side evolution might mean that the domain tends to get few backlinks per referring domain. If on the other hand you see a small increase in referring domains but an incremental increase in referring pages, that might be a sitewide integration in one of the referring domains, resulting in such a backlink influx (eg. banner or footer integrations are common "culprits" there). If you detect some movements in the graph that need further examination, you can then have a deeper analysis in the Backlinks report, where you can filter for specific date ranges (as well as other filters including the backlink rel, whether the backlink is still live or when it was detected or dropped etc.).
2: The Referring domains report
Want to see who is mostly linking to your website and how? Then a very good source of information is the Referring domains report. As its name suggests, it gives a very good overview of all the websites that send backlinks to yours and has a lot of cool features that can help you in your analysis.
Let us use the example of our The Boutique Agency website once again.
To run the analysis, we will sort the domains by number of incoming links, and take into account only the do follow links (the ones that pass PageRank) and only the backlinks which are still live.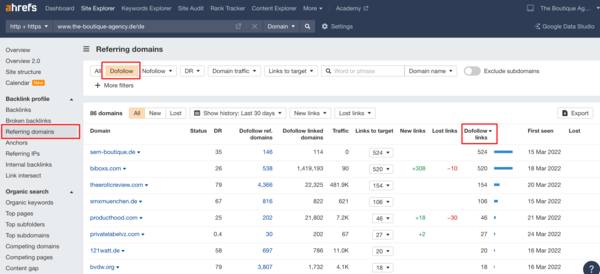 Illustration: Screenshot The Boutique Agency, as of August 30th, 2022
The report now only shows an overview (so all data on one referring domain aggregated in one line), but of course when clicking on each line, one can see multiple backlinks per domain.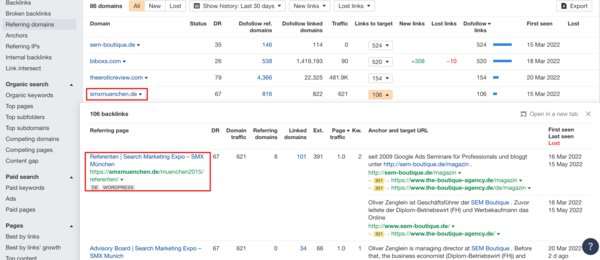 Illustration: Screenshot The Boutique Agency, as of August 30th, 2022
By looking at the Referring domains report, we can extract the following information:
Which websites are linking to us? Are they thematically relevant? Are they trustworthy?

Do the links they send us pass PageRank (the so-called link juice)? In other words, are the links set to follow or no-follow?

How do websites link through us? Do they link from many or few pages? To which of our pages do they link and with what anchor text? Do the backlinks look natural?
As in the entire backlink analysis, a very important keyword here is "patterns". Do we spot any linking, page or anchor text patterns that do not look normal? That should raise a red flag. Common examples would be:
Backlinks coming from many similar looking blogs (eg. name+surname.blogspot.com), that send approximately the same number of backlinks per domain (most of the times the backlink is implemented as an image)

A sudden influx of backlinks that are detected and dropped within a couple of days

A big number of domains that are not ccTLD relevant and send backlinks to the domain with random anchor text in a non-relevant language
As mentioned before though, keep in mind that it is patterns that matter, while some bad backlinks are also part of a natural backlink profile and will not hurt your website (except if they are backlinks that you have paid to acquire). Therefore, as a rule of thumb, when analysing the referring domains, you should focus on the number of domains that contribute to around 80-90% of total do follow incoming backlinks instead of every single domain.
Of course, the same analysis can be applied not only to our own domain, but to top competitors, in order to see if they are getting backlinks from relevant, authoritative domains that you could also reach out to.
3: The Anchors overview report
An anchor is the viewable, clickable part of the link, and it can be a text or an image. Anchors are an important aspect of backlinks because they are taken into consideration by Google when analysing your backlink profile.
Anchors are mainly important for two reasons:
they allow users to understand where they are going to be taken by clicking on the link,

they help search engines better understand the destination page semantically, and rank it accordingly
Therefore, the kind of anchors that are used to link to your domain affects the website's ranking potential.
There are different ways of clustering anchors, but there's general agreement on the main types of anchor texts below:
Exact match: the anchor corresponds to exactly what it links to (eg. in the instance of an e-commerce website with womens shoes, an exact match would be "womens shoes")

Partial match: the anchor is more long tail than what the exact match would be (in the previous example, think something along the lines of "discover our latest picks in womens shoes here")

Brand: the anchor is the brand name

Naked: there is no anchor set, but the destination URL is actually the clickable element instead

Generic: an anchor that is more generalistic and has nothing to do with the content of the page where the user is to be taken (eg. "Click here", "here", "Check it out" and so on)
The anchors can be checked in Ahrefs under the Backlink profile section. Again, here we can sort and filter the anchors by number of incoming do follow links, when they were first seen, number of referring domains using this particular anchor and so on. This is what the report looks like: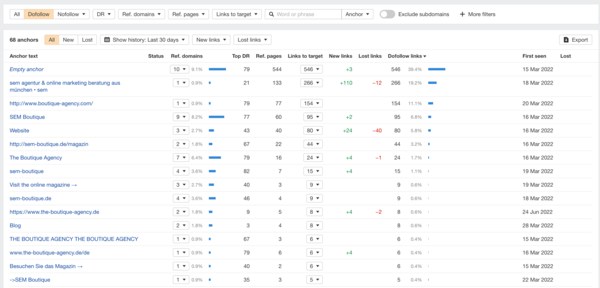 Illustration: Screenshot The Boutique Agency, as of August 12th, 2022
What we want to ensure when looking at our anchors is that they are naturally distributed, and that they do not look fabricated. Especially in the past, many were using anchors as a lever and therefore building backlinks with heavily optimised, exact match anchors corresponding to focus keywords and trying to get a semantic boost through that.
Since the above practice is a manipulative tactic, this is something to look out for in the report above and avoid. If we for example see that more than 90% of our anchors are all heavily optimised, exact matches, our backlink profile looks fabricated. By checking the anchors we want to see also underoptimised and random ones, as this reflects how others would organically link to our website.
4: The Best by links overview report
Another powerful tool from Ahrefs that helps us better understand not only our domain, but also how the competition is building backlinks is the Best by links report. What it shows us is a per page analysis of incoming backlinks. You can find it on Ahrefs under the Pages section: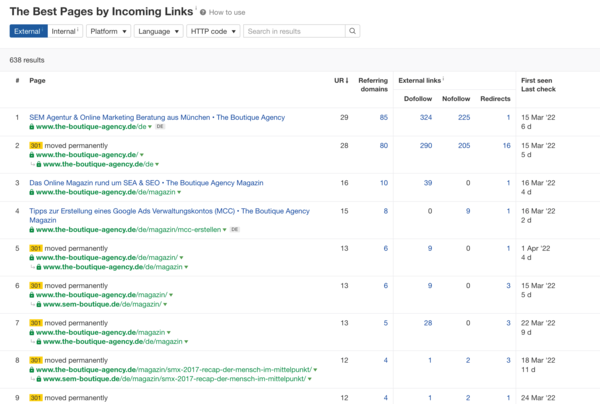 Screenshot The Boutique Agency, as of august 12th, 2022
The Best by links report can be a powerful tool to better understand our own (and the competitors) domain(s), and see what works and what does not from a link building perspective. Here, by sorting by Dofollow links, one can see which were the pages with the highest number of backlinks. That helps to see if for example certain content pieces perform better than others in generating backlinks. In this view unfortunately there is no toggle to open the links and get directly more information on the same view, but you can click on the number of dofollow links, and you open the backlink page report where you can see all the details.
You can also sort based on DR (or Domain Ranking, a custom Ahrefs metric ranging from 0 to 100, which shows the strength of a website's backlink profile). This way you can see which other, well linked (and therefore probably qualitative) websites link to which pages of your website and see if you can craft a strategy based on these findings.
Last but not least, you can also use this report to detect any issues with your most important backlinks. As you can see above, we get a notification if our pages receiving backlinks do not return a 200-status code, and that allows us to quickly identify offpage-relevant pages that need fixing with a high priority. The same report can also be used when looking at competitors' profiles in order to identify any interesting backlinks they might have to pages that no longer exist, where we could then reach out to the respective referring website and pitch a page of ours that might provide the same information or product instead.
Summing up, Ahrefs is a very powerful tool that will help you better understand your website and the market in general. Do not be afraid to play with the various reports it offers and find the ones that make most sense for you!
Source of teaser image: Shutterstock